Last weekend saw over 50 German Eagles, both men and women, head to London for the 2019 European Championships.
For the women, as their first ever 18 aside competition, there were no expectations of the team. However, they came out flying, shocking the hosts Great Britain in their first game with a 0.8.8 to 0.1.1 win. The second game was a bit of a crash to reality, taking on the World Championships, Ireland, who proved their status by keeping the Eagles Women scoreless. On the second day, the tables were reversed against Great Britain who wanted to redeem themselves for their poor form on Wednesday and they took the win over the Eagles with the same total scoreline, 1.2.8 to 0.1.1. However a similar battle was held against the Irish with the girls, though fighting hard, unable to score against the powerful Irish. Though on the same points, the German Eagles were granted the spot in Saturdays Grand Final, with a better goal difference than the Great Britain Swans. A fantastic achievement for the Eagles Women on their first outing. Saturday came and although giving 100% throughout the whole 80minute game, the Irish were just too powerful and experienced for the German girls, taking a big 13.24.102 to 0.0.0. However the Eagles women came off the field with their heads held high, knowing they had achieved something great by reaching the Grand Final in just a year since the first team outing in Cork in October 2018. Focus is now on the International Cup in Australia in 2020!
Congratulations to the 6 Eagles Women who made the AFL Europe Team of the Tournament: Elli Maxeiner, Anni Rode, Ioanna Kopasaki, Denise Heckmann, Theresia Meißner and Marie Wrinkler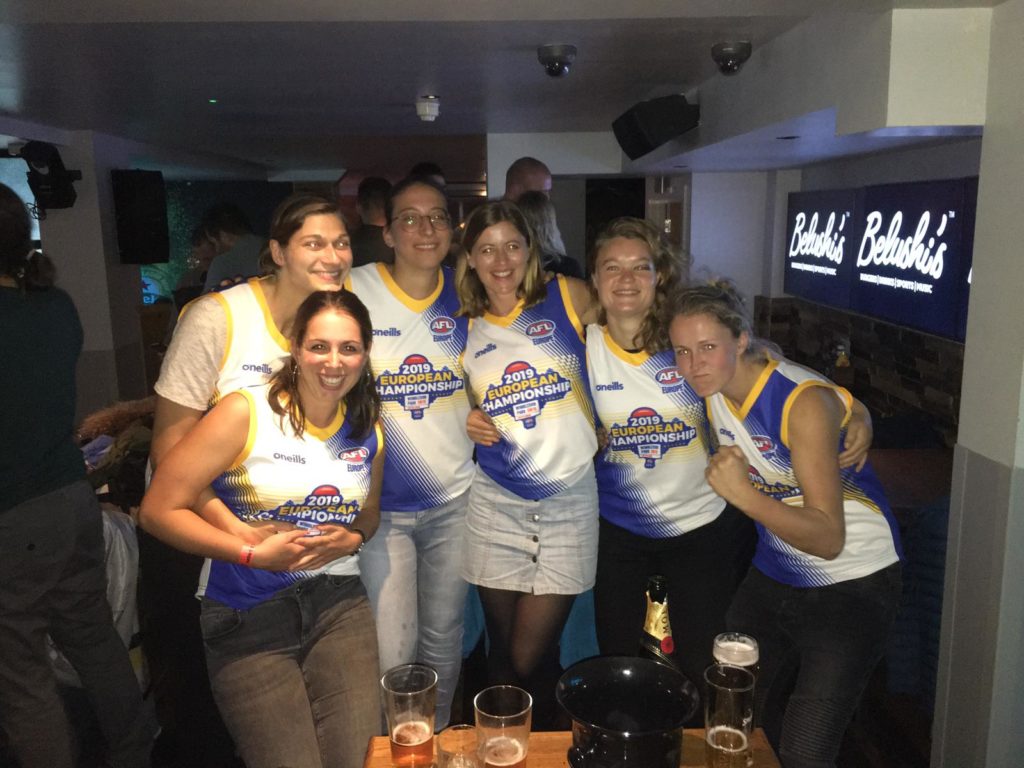 It was a slightly different story for the Eagles Men, knowingly going in to the tournament with an inexperienced team, they were up for a tough time. In the group stages, the men were up against Ireland and Denmark and unfortunately came out bottom, unable to get a win. This lead to a play-off for 5/6th spot on the Thursday against old rivals France. It was not meant to be with the eagles who were outplayed by the French, 9.8.62 to 0.2.2. This has left the German Eagles Men nervous about their qualification for the 2020 International Cup in Melbourne and will be a waiting game to see if they will receive an invitation. On the Saturday, the Eagles Men were up against a local London team, the Wimbledon Hawks to provide extra game experience. There are many positives to be taken from the Tournament for the men with the development of a number of younger players getting invaluable 18 aside experience.
Congratulations to Florian Naumann and Phillip Evermann for receiving Team of the tournament status.